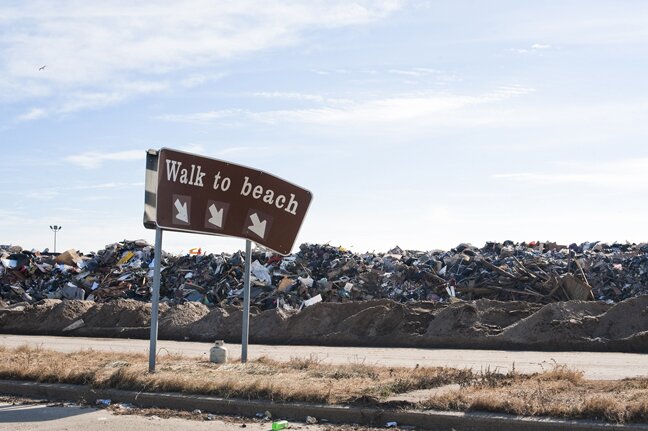 First Published on
Mute
(
http://www.metamute.
org

) on 24th May 2006

. Occupy Theory is re-publishing this essay for its relevance in helping to think about Post-Sandy reconstruction and organizing efforts.
The relief effort in New Orleans has had far graver implications for the city's inhabitants than the physical devastation of hurricane Katrina – it represents one of the 'largest and swiftest urban enclosures' in US history. Far from returning things to normal, Bush's neoliberal administration is using the disaster as an opportunity to evict its black working class residents, hand land over to big business and drive down wages – argues George Caffentzis

Dedicated to Megan Perry,who died in New Orleans while in struggle against the New Enclosures[1]

When Hurricane Katrina blew through New Orleans on 28 August 2005, the levees broke and a large part of the city was flooded. Hundreds of New Orleanians drowned and hundreds of thousands fled the city. Katrina was one of the worst natural disasters in US history, but what made it so disastrous was the governmental response to it. Inevitably, this response became a prism to critically analyse the politics of the Bush Administration. The main motives that have emerged to explain its complicity in the disaster are racism and hostility to ecological considerations. The critics agree that if New Orleans was not a majority black city, then the Bush administration's assistance would have been swifter and more generous and that Bush's pro-corporate agenda impeded efforts to preserve the Mississippi Delta wetlands that could have blunted the impact of the storm.
These analyses of the causes of the New Orleans disaster in the Bush Administration's 'right-wing' ideology are sound, but they do not get at the stark meaning of Katrina on New Orleans in class terms. Below I claim that capital will have to stop or ameliorate natural disasters such as Katrina (whose aggravation by capitalist development makes the distinction between natural and man-made disasters moot) unless it can use them to accumulate!