Resist. Insist. Stand together. Build. Never Surrender.
On September 17th, 2011 Occupy Wall Street was born. A hundred people occupied Zuccotti Park in lower Manhattan and opened a space for imagination. We began to share food, clothing, and shelter. We sought refuge in the shell of a concrete jungle and found community. Inspired by our actions, occupations began throughout the globe. In a matter of months nearly all of them were crushed by the weight of repression and co-optation, but occupy cannot be stopped. It is a collective unleashing of anger and frustration at a dying capitalist system and points toward a new world. Let us create this world together. Read. Share. Distribute. Tidal.
"Could Not Retrieve any Tweets"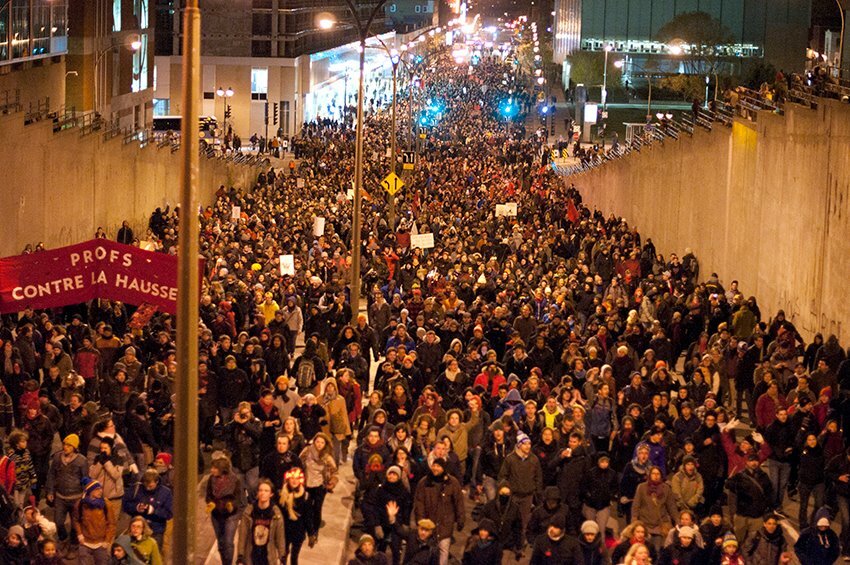 Origins of an unlimited general strike ("grève générale illimitée")

Students in Quebec are marking their 100th day of an unlimited general strike on Tuesday, May 22nd, the culmination of the most stunning mass protest movements of recent months and North America's largest student movement in years. In fact, the mobilizations in Quebec might just be Canada's Arab Spring.

Students have been organizing against tuition hikes for nearly one and a half years, when the Quebec government first proposed to raise tuition fees by 75% over five years (amended to 82% over seven years by the government at the end of April). Before the general strike began in February, protests, demos, trainings, letter writing campaigns and attempts to negotiate in good faith with the government were consistently met with obstinate silence from the Charest administration. For the students there has been a growing sense of urgency and a shared recognition that increased tuition means a heavier student debt burden, hundreds of more hours a year spent working instead of studying, less access for working class and lower class students, and a shift in university culture toward the market, the commodification of education, the financialization of student life, and the privatization of the university.
Add a comment
Add a comment
Read more: "We didn't know it was impossible, so we did it!" The Quebec Student Strike celebrates its 100th day