Resist. Insist. Stand together. Build. Never Surrender.
On September 17th, 2011 Occupy Wall Street was born. A hundred people occupied Zuccotti Park in lower Manhattan and opened a space for imagination. We began to share food, clothing, and shelter. We sought refuge in the shell of a concrete jungle and found community. Inspired by our actions, occupations began throughout the globe. In a matter of months nearly all of them were crushed by the weight of repression and co-optation, but occupy cannot be stopped. It is a collective unleashing of anger and frustration at a dying capitalist system and points toward a new world. Let us create this world together. Read. Share. Distribute. Tidal.
"Could Not Retrieve any Tweets"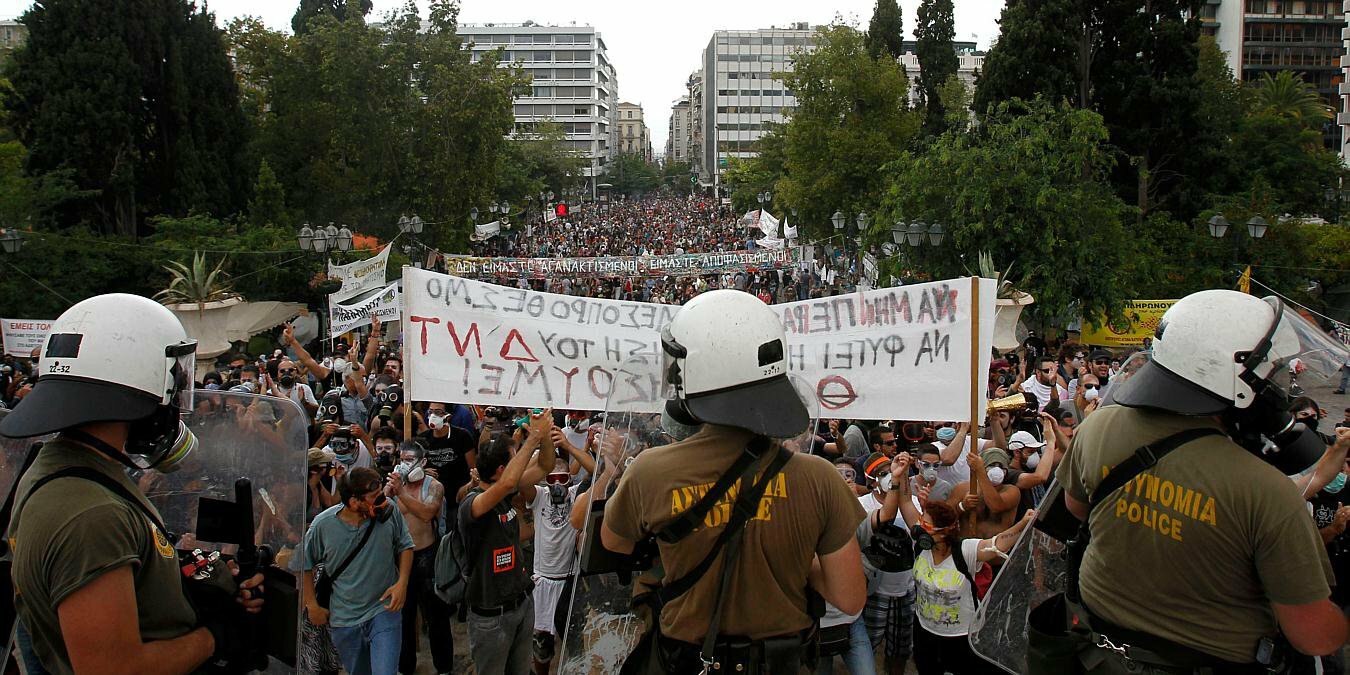 I recently traveled with a team of radical reporters to Greece. There, longstanding illusions of Europe as a "progressive and democratic" force in the world are being dashed as the neo-liberal and imperialist projects that are European Union and the International Monetary Fund bare their fangs.
Thousands upon thousands of public sector jobs have disappeared. Half of Greece's hospitals are slated to close. We met doctors who had not received their pay in over 6 months. Free access to healthcare is being replaced by free market chaos in which people must rely on bribes and brokers in order to even secure basic services. The old social contract of the European welfare state has come to an end.
Factories are closing shop and moving to other countries where production is more profitable. Uncounted numbers of immigrants from Eastern Europe, South Asia, and North Africa who came to Greece seeking papers to enter the European Union now find themselves stuck in a society where the jobs have disappeared – and where swaggering neo-Nazis are mobilized to attack them on the street.
Public agricultural lands that once provided for the people are being privatized. With those privatizations, agriculture is being replaced with whatever industries are profitable to foreign imperialist powers. Greece is entering a process of neo-liberal specialization, in which its economy is to be warped and disfigured to produce whatever is profitable for global capitalism.
These measures have been met with wave after wave of rebellion. Millions are saying no to this trajectory. Institutions, arrangements and assumptions that once appeared permanent and unquestionable have been thrown into the air. The country is in such profound crises that many sense revolutionary potential. Communism is re-emerging as a name of an emancipatory possibility and road that people can take. Perhaps instead of breakdown, the people will breakthrough.Today, an electoral crisis and the emergence of the radical left have come to characterize Greece in the minds of many people. This is actually the most recent of four moments of intense radicalization in Greek society.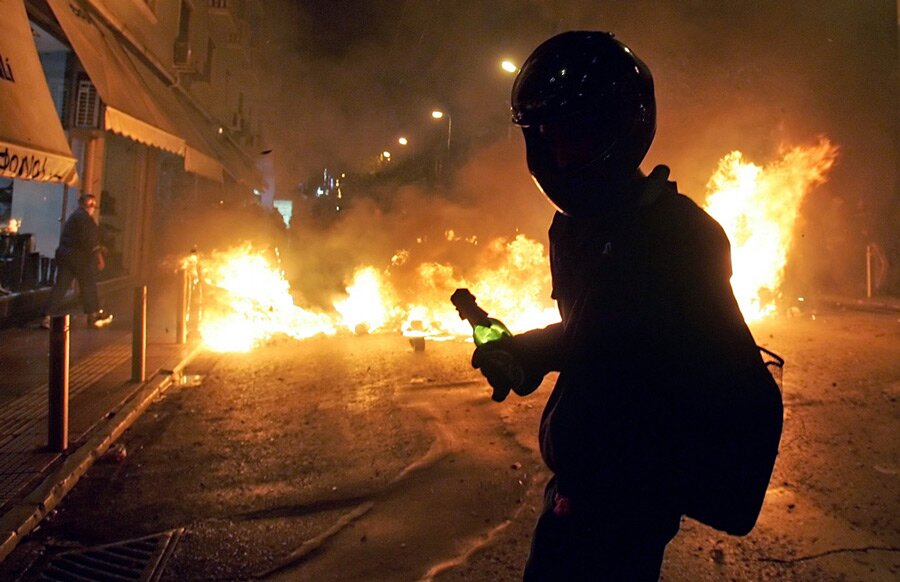 December of 2008 was a winter that forever changed Greece, setting it on fire. The global financial crisis was the kindling, but the match was actually the murder of a young boy, Alexandros Grigoropoulos, by the police. What started as demonstrations and riots in the small sub-cultural community of Exarcheia quickly spread to become a national rebellion. The legitimacy of Greece's ruling parties was called into question for the first time in decades. The left was polarized, with the anarchists and the more creative sections of the communist movement playing a very important role. Meanwhile, forces that claimed to be on the side of the people, such as the old Communist Party of Greece (KKE), found themselves exposed and isolated. This KKE declared that (in their minds) any "genuine popular revolt will not smash even a single pane of glass."
The rebellion among Greek people reverberated and grew. In response to loan and austerity programs being imposed on Greece by the European Union, 2010 became a year of mass protests and general strikes with crowds numbering in the hundreds of thousands. General strikes occurred in industries where labor unions had historically been dominated by the PASOK, a mainstream party that postures as social-democratic as it carries out austerity, and that has played a role of co-option for decades in Greece. The political forces of Greek society were realigning.
Add a comment
Add a comment
Read more: Greece: Where occupations speak, and governments fall